Welcome to the Homepage of the De Anza Chapter
of the American Rhododendron Society!
Who We Are:
The American Rhododendron Society is a non-profit organization whose purpose is to encourage interest in and to disseminate information about the genus Rhododendron. Members' experience ranges from novice to expert. Society activities include public education, flower shows, seed exchanges, scientific studies, and communication through publications and local and national meetings. ARS chapters are located throughout the United States and Canada and in Denmark, Finland, Holland, Scotland, Sweden and Sikkim.
The De Anza Chapter is composed of American Rhododendron Society members who hold meetings and sponsor events in the "Silicon-Valley" region of Northern California. Non-members and guests are always welcome to attend Chapter meetings and events.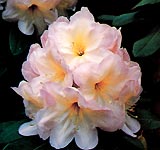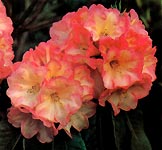 President: Christy Hartsell.......... christy.b.hartsell@gmail.com
Secretary: Erika Enos .......... dble11@yahoo.com
---
Next Meeting:
Wednesday, January 21, 2015 - 7:30 - 9:00 pm
Hillview Community Center, Room 12
97 Hillview Ave. Los Altos
SPEAKER:
Arnie Cornez
TOPIC:
Pruning of Japanese Maples
Our speaker was so informative last year, we are having him back! Arnie will demonstrate pruning and shaping of staples of our garden landscapes and companion plants to our rhodies: Japanese Maples. He will show us how to use various tools: pruners, saws & loppers to train the growth and enhance the beauty of these elegant trees.
Arnie Cornez teaches at the Foothill College Horticultural Departtment, is a docent at Hakone Gardens in Saratoga, and a pruner at Gamble Gardens in Palo Alto.
Still haven't yet paid your yearly dues? Bring your payment to the meeting and save a stamp!