Welcome to the Homepage of the De Anza Chapter
of the American Rhododendron Society!
Who We Are:
The American Rhododendron Society is a non-profit organization whose purpose is to encourage interest in and to disseminate information about the genus Rhododendron. Members' experience ranges from novice to expert. Society activities include public education, flower shows, seed exchanges, scientific studies, and communication through publications and local and national meetings. ARS chapters are located throughout the United States and Canada and in Denmark, Finland, Holland, Scotland, Sweden and Sikkim.
The De Anza Chapter is composed of American Rhododendron Society members who hold meetings and sponsor events in the "Silicon-Valley" region of Northern California. Non-members and guests are always welcome to attend Chapter meetings and events.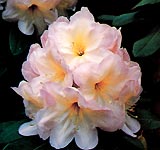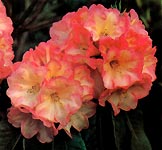 President: Nan Ray .......... nanray@earthlink.net
Secretary: Erika Enos .......... dble11@yahoo.com
---
Next Meeting:
Wednesday, April 16, 2014 - 7:30 - 9:00 pm
Hillview Community Center, Room 12
97 Hillview Av., Los Altos

EVENT:
Refresh Your Garden Design
Presented by Rebecca Sweet
This is the perfect topic for this month's meeting since our gardens are showing (or not showing) new growth. This past winter's freeze damage and the current drought conditions are providing us with the perfect excuse to rethink the scope and types of plants we want in our gardens. As always, Rebecca will give us lots of useful information and plant suggestions to refurbish our gardens for added interest and ease of maintenance.

Rebecca is a well known and respected landscape designer, author of several books and writer for Horticulture Magazine. She also produces an interesting gardening newsletter: Harmony in the Garden.

This month dinner is on us. We will have our pre-meeting pizza night in our meeting room. Come @ 6:00 for a slice (or two), a salad and drink.