Welcome to the Homepage of the De Anza Chapter
of the American Rhododendron Society!
Who We Are:
The American Rhododendron Society is a non-profit organization whose purpose is to encourage interest in and to disseminate information about the genus Rhododendron. Members' experience ranges from novice to expert. Society activities include public education, flower shows, seed exchanges, scientific studies, and communication through publications and local and national meetings. ARS chapters are located throughout the United States and Canada and in Denmark, Finland, Holland, Scotland, Sweden and Sikkim.
The De Anza Chapter is composed of American Rhododendron Society members who hold meetings and sponsor events in the "Silicon-Valley" region of Northern California. Non-members and guests are always welcome to attend Chapter meetings and events.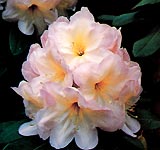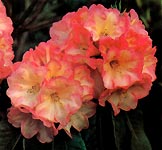 President: Nan Ray .......... nanray@earthlink.net
Secretary: Erika Enos .......... dble11@yahoo.com
---
Next Meeting:
Saturday, May 18, 2013 - gather at 9:00 am
Hillview Community Center
97 Hillview Ave., Los Altos

EVENT:
Field Trip to Western Hills Gardens & Sonoma Horticultural Nursery
This month we're going to do something different (if enough people sign up). We've talked about going on a field trip for several years now and this year we intend to organize one. Western Hills Gardens (under new ownership) has recently opened to the public for tours. It is located in Occidental, in Sonoma County. Since we will be in Sonoma County, we decided to also visit Sonoma Horticultural Nursery in Sebastopol. In addition, there is an interesting nursery (Peacock Nursery) with some unique plants very close to Sonoma Hort so we thought we'd explore this too. After visiting Western Hills, we will lunch at a restaurant in Occidental before proceeding to Sebastopol. In order to plan properly, we'll need some information from our members:
(1) Who is interested in going? We need a positive response by Sun May 12
(2) Who can drive for our car pool? We need to know by Sun May 12.
(3) Who wants to lunch with the group (we need to make reservations).
We will meet in Los Altos at the Hillview Community Center at 9 AM and those not driving will leave their cars there (there are no signs prohibiting the parking, according to Christy). We should return around 7 - 7:30 PM.
Please email Erica Enos (dble11@yahoo.com) or call Christy (650) 424-8007 to reserve your space for the field trip & to let us know if you will drive your car and can take others.